WETRAVEL NEWSROOM
FinTech and SaaS platform built for the multi-day travel industry.
Privately held: Series B Funding $27 million USD in 2023; total funding $34 million USD

Employees work from five continents, excluding Australia and Antarctica

Headquarters in Amsterdam, Netherlands, and California, The United States

Product and DevOps office in Baku, Azerbaijan

Nearly 50 percent of employees identify as women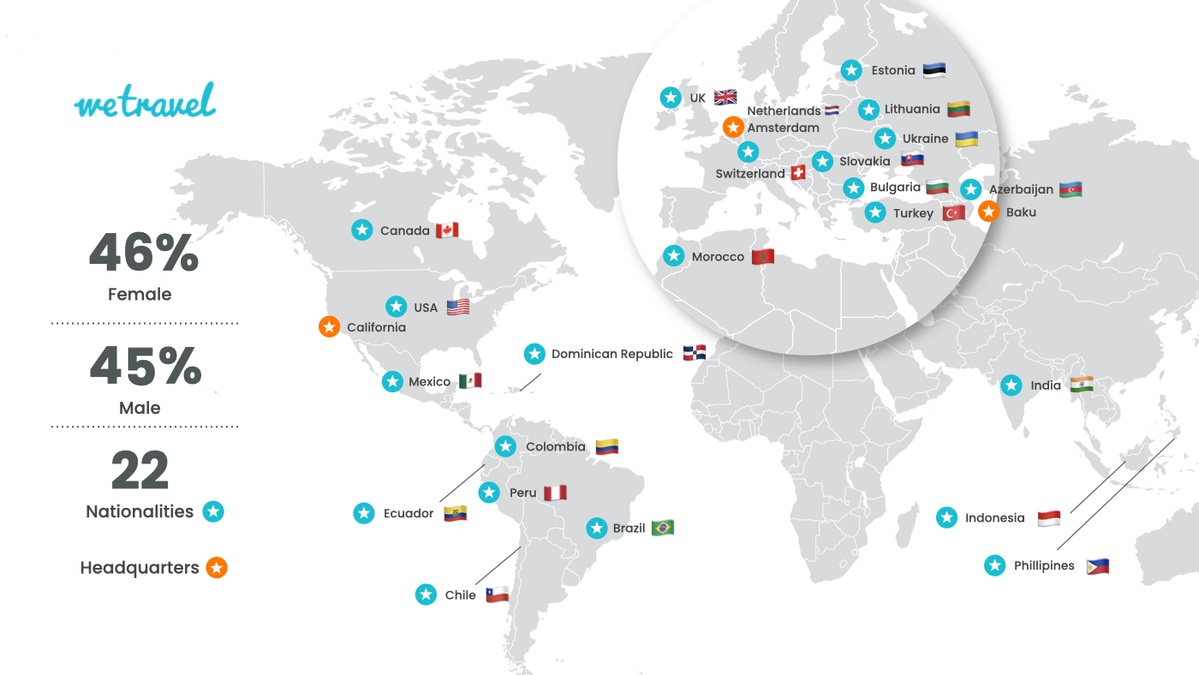 WeTravel is the only integrated, multi-solution platform built for all multi-day travel companies to manage their administration, marketing and payments -- in one place.

WeTravel's Humble Beginnings...
WeTravel began in 2016, with three Co-Founders—Johannes Koeppel (CPO), Garib Mehdiyvev (CTO) and Zaky Prabowo (CMO)—who had a similar passion for a local style of immersive travel, hailing from Switzerland, Azerbaijan and Indonesia respectively, and a fascination with technology.
The initial idea for the platform sparked from Koeppel's time working for The Red Cross—with small communities and local travel businesses around the world—he experienced how disjointed the booking and payment process was for multi-day travel businesses; the payment system was archaic, causing missed and delayed payments (often sent by cheque) to vendors and confusing itineraries for customers. He believed technology could better the system and help local businesses and communities increase revenue and drive traffic to their trips.
In 2014, WeTravel's MVP was launched for student group travel organizers. In its prototype, the platform processed more than $600k USD in transactions. Noting the platform's demand within the student travel segment of the multi-day travel industry, the business expanded its offerings in the wellness segment. Finding similar success, WeTravel expanded into all segments within the multi-day travel industry, evolving its product to be built as a vertical SaaS for the multi-day travel industry.
WeTravel Now
Empower all multi-day travel businesses to grow through technology

All-in-one technology platform for multi-day travel businesses

1,000+ tour operators, 3,000+ group organizers, more than 500,000 travelers globally

Hundreds of millions USD in annual transactions

Payment solutions: Automated payment processing and billing, Supplier Transfer networks, Instant Payout options, WeTravel virtual credit cards, customizable payment options

Marketing features: Trip Builder, Google Analytics integration, Zapier or WeTravel API integration, automated email marketing, custom branding, lead generation tools including Download Brochure and Waitlist, and more

Administration solutions: Payment analytics and tracking dashboards, waitlist functions, team chat functions, booking management tools

Free subscription for non-profit businesses and student group travel

WeTravel Basic, Pro and Enterprise subscription models fit for all business types
Why WeTravel?

WeTravel makes the booking process--from itinerary building to trip management--accessible and easy for all travel businesses. Its evolving solutions include instant payment, supplier transfers and WeTravel Cards, at the industry's lowest processing fees.
For the multi-day travel industry—which is often made up of small- to medium-sized businesses that lack proper technology—the platform creates opportunities to increase revenue and customer satisfaction (recurring revenue potential), allowing for all businesses to easily transact with travelers, vendors and suppliers.
Although used by all business sizes, WeTravel began and continues with a heart for helping increase revenue for local business owners—so that money can be funneled back into communities, businesses and people, becoming a solution that has economic and social impact.
WeTravel's Executive Team
WeTravel Press Contact
For all press inquiries, email press@wetravel.com to speak with Kasi McGurk, WeTravel's Global PR Manager. She aims to respond within two business days.